My first book for the Book a Week project is S.E. Hinton's classic young adult novel,
The Outsiders
. I'm taking a young adult literature class this quarter, and this was one of three books we could select to read for class discussion. I chose
Go Ask Alice
by Anonymous for my class discussions and writing, but bought Hinton's novel for kicks. I'd certainly heard about it, since it's been around for a little over four decades, but I'd never read it and have never seen the film.
I was drawn into the book from the very beginning--the main character, Ponyboy, has this natural way of drawing you in. His language and the vocabulary of the Greasers in general is so intriguing, and sometimes quite funny. I think the biggest issue I had with this book was that, for some reason, I was unable to get a good image in my head of what each character looked like. I kind of had an idea of what Johnny might be like, and Darry as well, but I just couldn't wrap my head around Ponyboy or Sodapop or the other boys in the gang. It took me until halfway through the book to remember that Ponyboy was a redhead! Usually I'm much better about that, but something about the book just kept me going without a real definite picture of the characters.
I guess that says something about the book as a whole. It's resonated with adolescents for such a long time, there has to be something in that. My wonderful young adult professor, Nancy Johnson, told us all that in order to read young adult fiction and understand it in any real way, we had to respect the audience it was intended for. S.E. Hinton was only 15 years old when she wrote
The Outsiders
, and only 16 when it was published. She wrote it as an expression of the tension and fear surrounding gang violence in her own community, and yet as I read I found myself extending the conflicts in the book to encompass a more broad theme of teen violence and anger. Coming from a background in which class differences were not as openly critiqued, I still was able to understand the relate-able quality of Hinton's characters to teen readers. Maybe we're not beat up by our parents every day, but certainly we question whether or not we are truely loved, whether we can really trust our friends or surroundings, and wonder if we're really cut out for such a harsh world. The more I think about the novel now, I really see strong correlations between Ponyboy's doubt regarding his brother Darry's love for him, and my own issues with trust that I've harbored since puberty.
I feel like seeing the film version, reputed to be quite good, would be a great way to enrich my reading of this text. Looking at stills and promotional materials now, I really
have
to see it. I mean...Patrick Swayze, Emilio Estevez, Tom Cruise...the list goes on. And from what I can tell, the guy who played Johnny Cade is a real cutie (and very much how I pictured him). Anyway, it's a great book. Good start to the project!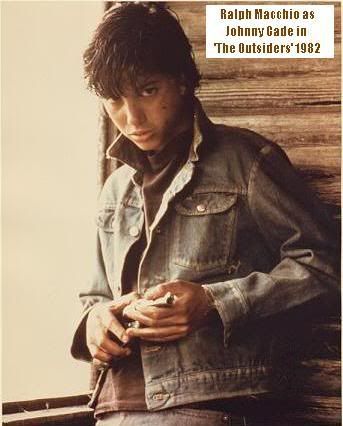 Oh, and check out how cute Diane Lane is as Cherry Valance: